Dinning Cruises
A night spent on the Nile or at least an evening seems to be a must for every tourist. A number of floating restaurants in Cairo respond to this desire and offer a special nightlife experience. All of them entertain their guests with more than only with a luxurious dinner. This is a splendid way to see the Nile and city skyline at its best. Few can complete with the romantic setting of dinner on a Nile cruise ship.These cruisers float for 2 hours and bring you and your party tasty meals, excellent entertainment and an unforgettable evening of stargazing along the Nile banks. The tour includes belly dance shows and live music of all styles, Arabic as well as Western, and sufi or even acrobatic performances.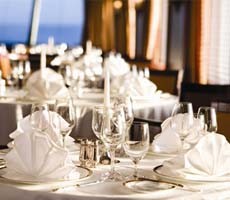 Designed for you
Luxury extends from the cabin to the public areas, room service available 24/7, ala-carte meals as well as buffets, black tie receptions to country club casual. No t-shirts, shorts. Children under 12 generally not allowed on board.
Luxury, comfort, personal attention in a more formal atmosphere. No shorts at meals, country club casual dress at certain events, rarely have children on board. Age range some older than standard.
Comfort, personal attention but in more of a laid back atmosphere. You might see people wearing shorts at meals. Age ranges from children (with families) to senior citizens.